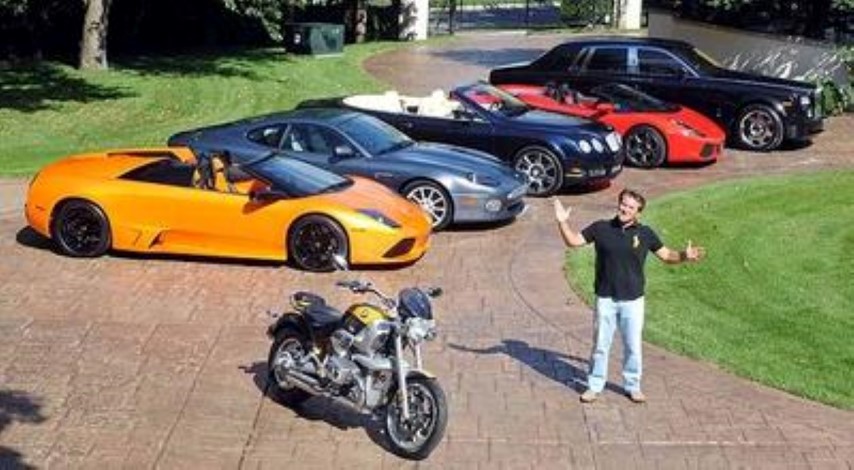 Croatian-born Canadian multi-millionaire Robert Herjavec made his money by selling an internet security company to AT&T for $100 million in 2000. Because one of his passions is cars and he now has the financial resources to enjoy them, he has invested in a collection of some of the most exclusive automobiles on the planet. Herjavec has an eight-car garage with lifts, and doesn't just keep the same cars forever. He's planning to sell his BMW 7 series soon, so that he can make room for a new vehicle.
Herjavec's current cars are:
    Rolls-Royce Phantom Drophead Coupe
    Mercedes-Benz SLS AMG
    Lamborghini Murcielago LP640 Roadster
    Lamborghini Gallardo Spyder
    Smart ForTwo Edit10n
    Aston Martin DB7 Vantage
    BMW R1200C Motorcycle
    Cadillac Escalade
    BMW 7-Series
Many of Herjavec's vehicles have history that makes them especially interesting to him. The BMW motorcycle doesn't work and Herjavec's motorcycle license is expired, but he holds onto it because it was in Tomorrow Never Dies, a 1997 James Bond film. The Rolls-Royce coupe once belonged to the famous rapper 50 Cent.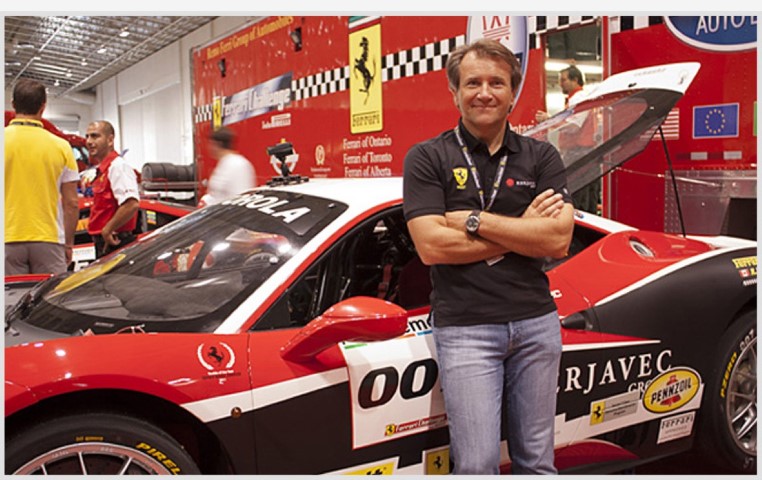 Herjavec's Vehicular Past
In the past, Herjavec has owned everything from a Nissan 300ZX to a Formula One racing car that he personally drove. 
Herjavec's past cars have included two Bentleys, another Lamborghini, a Ferrari, a Porsche, a Mazda, an Acura, a Trans Am, a Corvette and more. His future plans include purchasing a used 1976 Cadillac Eldorado, a car that his father owned briefly when Herjavec was a child. His father couldn't afford the car and it had to be returned, but now Herjavec wants to buy one of his own.
He also has plans to buy a Porsche Panamera Turbo, which has the appeal of being a 4-door sedan which can go faster than his sports cars, he says. It would replace his BMW 7 series as an everyday kind of vehicle. He's not in love with the back end of the car, though-- he says it has a horrible design but he's now gotten his mind around it.
Why He Loves Cars
Herjavec says that he loves the performance of a vehicle, though he can also appreciate that other attributes are important. His sports cars are not for driving to fancy events, he says, and his wife vehemently agrees. A 30-minute trip wearing a tux and gown in his Lamborghini Murcielago convinced them both of that.
A neighbour in Herjavec's exclusive Toronto area says his cars are gas guzzlers that he doesn't understand the appeal of. Herjavec says that he doesn't understand the appeal of $2 million dollar paintings that look like something his kids could have done, so they'll just have to agree to disagree. His cars are just a passion, like any other.