Named for the modern incarnation of the light and agile warship, the Corvette has been manufactured by General Motors since 1953, when it was introduced as a two-seat, six-cylinder, two-speed automatic transmission roadster. The outer body was made from what was then revolutionary fibreglass, chosen in part to circumvent steel quotas still in place from the Korean War.
Although the first-generation Vette is highly collectible today, sales were lacklustre until 1955, when GM fitted the car with a new engine, replacing a design that dated back to the Great Depression with a powerful V8 hooked to a three-speed manual transmission that helped turn the Corvette from a relative lightweight into a credible, highly coveted performance machine.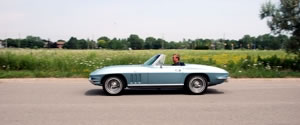 In 1961, the rear end was completely refashioned, gaining the so-called "boat tail" and four round taillights that have been a Corvette styling cue ever since. Braking performance remained underwhelming, however, as early models required approximately the length of an aircraft carrier's landing deck to stop from high speeds. It wasn't until 1965 that four-wheel discs were introduced, making the Corvette Sting Ray an all-around sports performer.
Six generations after the Corvette's debut, it has developed into a uniquely designed, world-class sports car that is able to run with the European big dogs like Ferrari, Lamborghini, and Mercedes-Benz for a fraction of the price. Along the way it has won various awards from respected automotive magazines and professional organizations, including the distinguished Society of Automotive Engineers (SAE).
But how does the modern Corvette stack up against its illustrious predecessors? To find out, The Driver recently got hold of a mint-condition 1966 Sting Ray convertible from Brian Cassells of Stingray Auto in Mississauga, Ontario, and a 2010 Corvette Grand Sport (GS) coupe courtesy of General Motors of Canada.
Cassells's second-generation (C2) Sting Ray has been fully restored to original specifications and bears the optional 327-cubic-inch, 350-horsepower V8 engine linked to a four-speed manual gearbox. In terms of styling, the '66 is the sentimental favourite, appearing curvier and more aesthetically aerodynamic, though the GS actually cuts the air more cleanly.
The 2010 GS is slightly larger in almost every respect: a half inch longer, six inches wider, and, though an inch lower, it generally looks more downright threatening from every angle. At 105.7 inches, the GS's wheelbase is also a whopping 7.7 inches longer, which translates into better, stabler handling.
Structurally, the '66 is a "flexi-flyer," its body-on-frame not nearly as torsionally stiff as the modern car's hydroformed steel frame with aluminum and magnesium structural and chassis components.
Our 2010 C6 GS tester had a fuel-injected, 6.2-litre (376-cubic-inch) V8 producing 436 hp and 424 lb-ft of torque, mated to a six-speed manual transmission. In classic sports car fashion, both Vettes are driven at the rear wheels.
Seat-of-the-pants acceleration feels quicker and more polished in the GS, but the '66 has a more visceral feel, surrounding the driver with mechanical noises and air induction sucked through the deep-breathing, four-barrel Holley carburetor that came standard on all Sting Rays produced that year. Both cars sound fantastic in their own ways, rushing to life with a roar and settling into an earthy rumble at idle; but get the revs up and the sound of power is pleasingly exemplified.
Four-wheel disc brakes were introduced in 1965, and both the '66 contender and the 2010 GS were equipped with them. However, the GS's power-assisted discs with anti-lock brakes (ABS) have six-piston front and four-piston rear calipers, cross-drilled rotors, and a greatly enhanced swept area.
Whereas the '66 had impressive stopping power in its day, it doesn't come close to the GS when the anchor is dropped. The Sting Ray's 7.75- x 15-inch tires appear skinny and the sidewalls look tall compared to those fitted to the GS: 275/35ZR19s on the front, and massive, steamroller P325/30ZR19s on the rear.
Both have independent front and rear suspensions, but the nod for handling and corning predictably goes to the modern car, which turns into corners more accurately and quickly, and which generates much higher lateral grip.
Although the GS is outfitted with power everything and also larger all around, the two cars weigh within 80 kg (170 lb) of one another, the GS being the heavier of the two at 1,502 kg. Cassells, one of Canada's foremost authorities on Corvettes and their restorations, explained that composite and other state-of-the-art lightweight materials keep the overall weight of the modern cars down. Suspension cradles, control arms, knuckles, springs, dampers, bushings, stabilizer bars, and steering gear all deliver low mass, direct response, and greater driver feedback than the early cars.
Meanwhile, electronic traction control, active handling, anti-lock braking, and electronic sequential fuel injection – all standard features on the 2010 GS – had not even been invented in the Sting Ray's day.
The manufacturer's suggested retail price (MSRP) for the 1966 base Corvette Sting Ray convertible was $4,240 (US), which, adjusting for inflation, is roughly $28,500 in 2010 dollars. As tested, our 2010 GS retails for $92,400. Interestingly, through a number-matching restoration and subsequent appreciation over time, the '66 is valued today at about the same price.
In the end, the 2010 Corvette GS is not surprisingly the more physically powerful of the two in every respect: its construction is stronger and more durable, it's faster, and it burns fuel 30 times more efficiently while generating infinitely fewer greenhouse gases. Nevertheless, it's difficult not to admire, and even love, the '66 Sting Ray for its style, cachet, and downright physical beauty. Ideally, whether American or Canadian, the true Corvette enthusiast might wish to own and drive one of each.