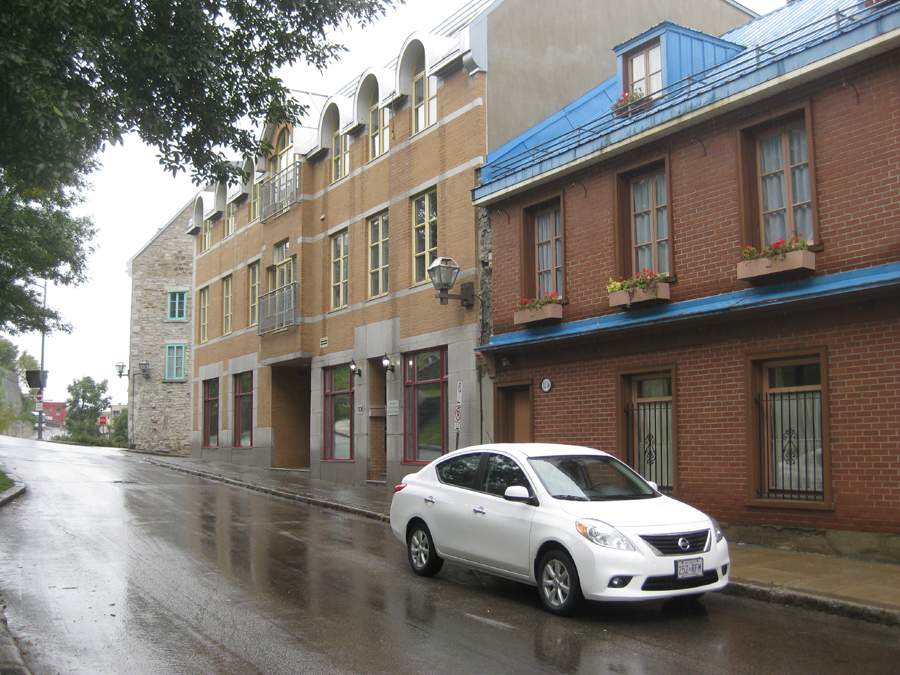 Quebec City, QC - Given the current economic outlook, it's more important now than ever to make sure that you're getting bang for your buck, which is why the new 2012 Nissan Versa Sedan may be an ideal choice for those in search of a new set of wheels. I happened to be present at the Versa's Canadian media launch, which started in downtown Quebec City and through the beautiful Île d'Orléans, as picturesque a venue as any for a test drive. Compact and sporty, the Versa blended in well with the locals as it weaved through narrow streets lined with bakeries, wineries, and chocolatiers.
Ever since the Versa first appeared on the horizon in 2007, Nissan has been riding its momentum. The subcompact has ingratiated itself with many purchasers, not merely holding its own in a fiercely contested field with over ten solid competitors (not least among them the Ford Fiesta, Hyundai Accent, and Honda Fit), but also emerging as the second-favourite choice in that segment for 2010-11. At least part of this success is attributable to its price tag: the Versa has the lowest retail price among subcompacts in Canada.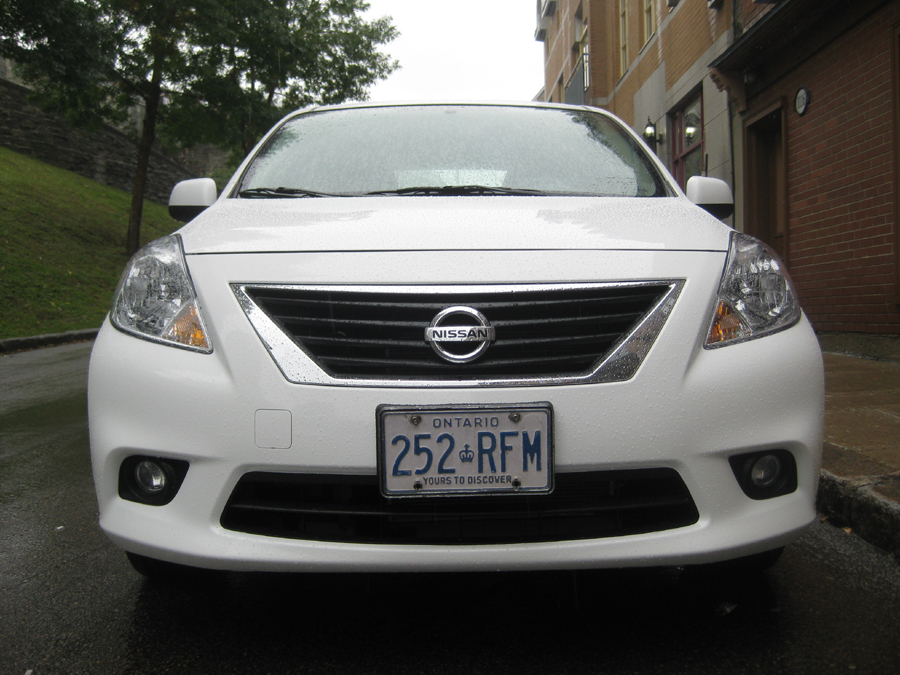 The 2012 Versa Sedan rides on a newly constructed global "V" platform ("V" as in versatile). It will be the first of many Nissan vehicles to use this new platform, which is 68 kg (150 lbs) lighter than the platform it's replacing. In keeping with this new weight-loss regimen, the 2012 is 30 mm lower and 15 mm shorter than its stockier predecessors. It's also the first Nissan car to showcase the marque's new signature grille, which shines brilliantly with its chrome trim. None of these changes is especially conspicuous in itself, but, when viewed as a whole, they make for a far more stylish exterior design than was typical previously.
According to Judy Wheeler, who heads up marketing at Nissan Canada, the new Versa sedan "stands out as the only expensive-looking car in the segment," boasting what she describes as "a lot of eye power." Most of the cuts were made to the front of the interior, but the rear and trunk space have also grown. The Versa now has 419 litres of trunk space, making it more practical for real-world use. Considering its overall size, the interior is extremely roomy, especially when it comes to the rear-seat leg room, which was clearly built to accommodate some serious gams.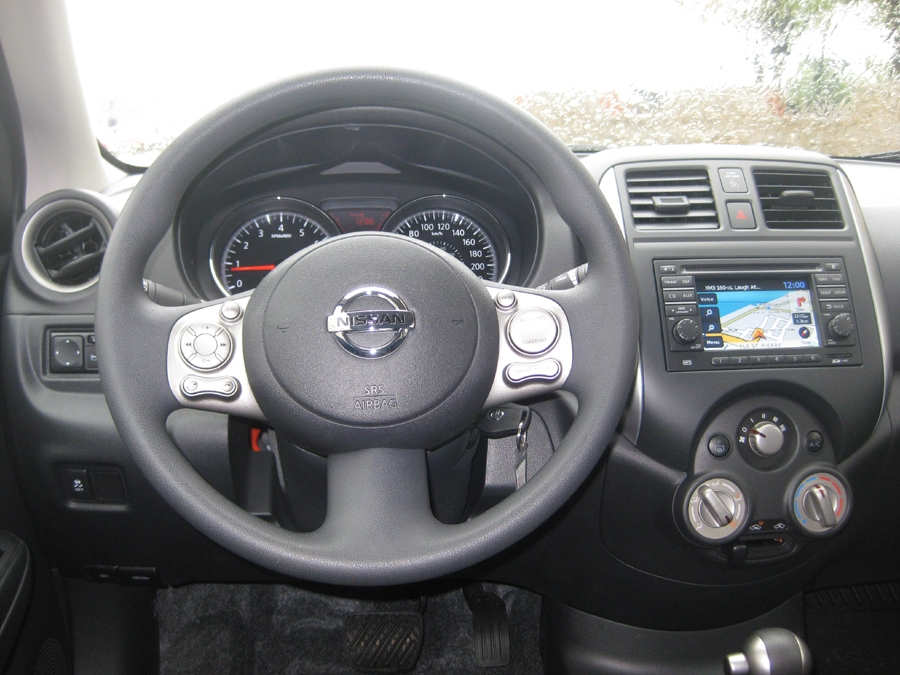 The charcoal-grey dashboard is a little primitive, which is scarcely surprising given the car's price, but the radio, heating, and assorted other knobs are all logically situated. My tester was a Versa SL-CVT that came equipped with navigation, XM Radio, Bluetooth, and USB/iPod connectivity, and that topped out at $16,298.
The standard 5-speed manual Versa (known as the "S") might be the model featured in most TV and print ads because of its low MSRP of $11,789, but Nissan is expecting most consumers to spring for the next-level "SV." With its old-school roll-up windows, baseline two-speaker audio system, and lack of A/C, the S is really a Versa lite. The SV still starts at the reasonably low price of $13,798, and comes with air conditioning, power windows and locks, remote keyless entry, upgraded seat cloth, chrome trim around the grille and exterior door handles, and a 60:40 rear-seat split-fold.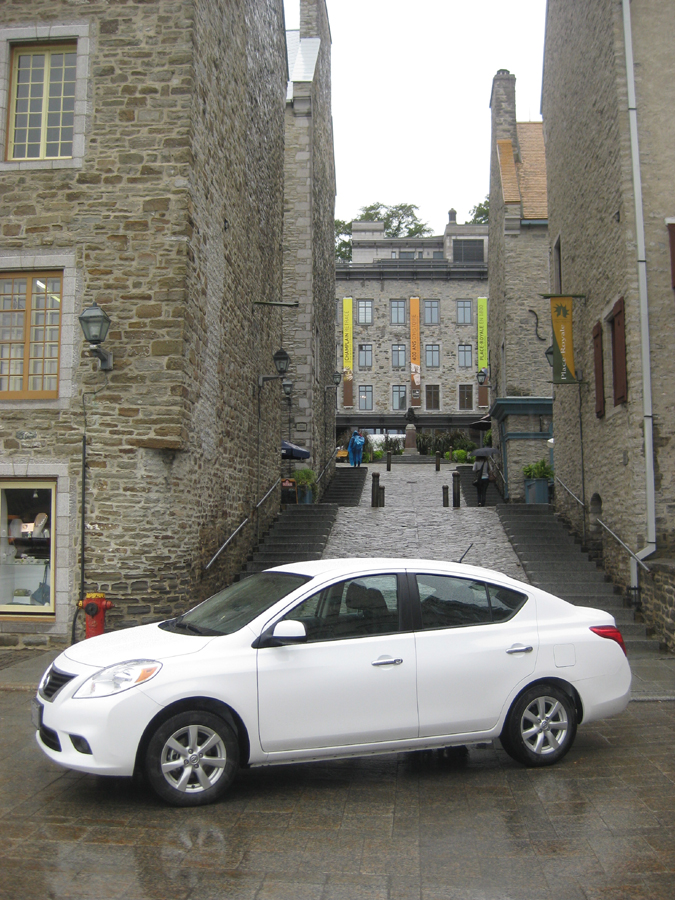 Whatever you might make of its price, there's no doubt that the Versa Sedan is a pleasure to drive. It runs on a 1.6-litre 4-cylinder engine that is rated at 109 hp and 107 lb-ft of torque. The engine uses two injectors per cylinder, which allows for a wider injection of fuel. The fuel economy is reported at 6.7 L/100 km in the city, 5.2 L/100 km on the highway, and a class-leading 6.0 L/100 km combined with the CVT (continuously variable automatic transmission), which is available in the SV and standard in the SL.
And if you're worried about its power numbers, don't be: on this rainy day in Quebec, my Versa pushed easily (and almost noiselessly) past many other vehicles along the highway.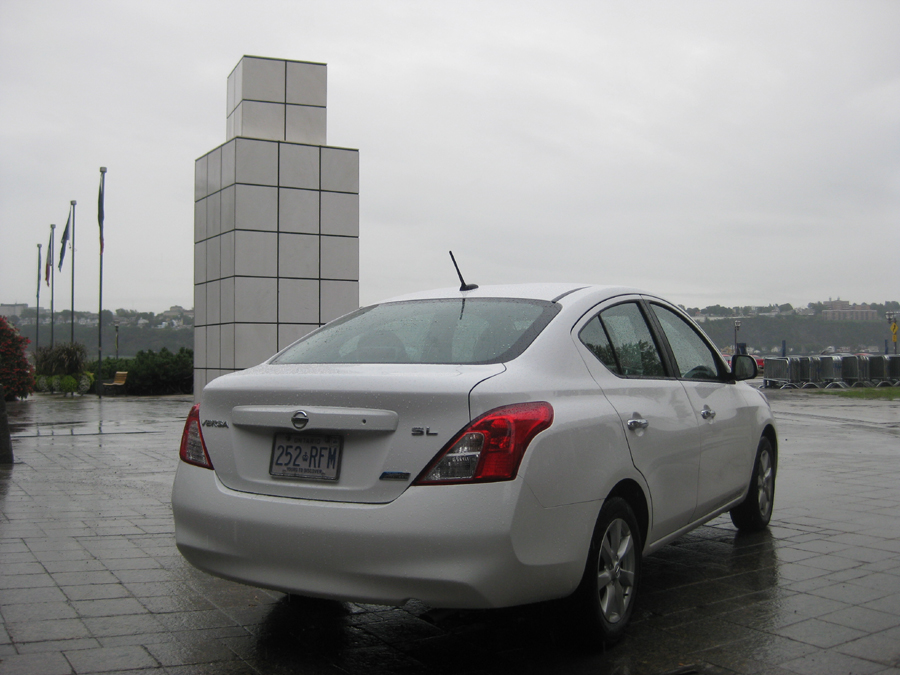 Granted, the Versa is not going to appeal to all demographics, particularly to those accustomed to a more luxurious and powerful car. But Nissan understands that, and the price of the 2012 clearly reflects what Nissan believes the market will bear. The new Versa, which is ideal for the commuting university or college student, also seems to be aimed more broadly at drivers who want to steer clear of buying another used car and who want the comfort and technological perks of a new one. Ultimately, Nissan has done a fine job distinguishing itself from the pack by creating an affordable car built comfortably for 4 to 5 adult passengers that represents excellent value with its assorted gadgetry.